Thyroid Eye Disease is a condition where the immune system attacks the muscle and tissue around the eyes, leading to uncomfortable symptoms such as blurred vision, dry or watery eyes, pain in or behind the eyes, inflammation/redness around the eyes, low tolerance of bright lights or change in the eyes appearance (bulging or bags under the eyes). This condition causes symptoms that are similar to the eye problems associated with autoimmune disorders, Graves' Disease, and Hashimoto's Disease. Treatment may include medications, lifestyle changes, or surgery. 
Thyroid Eye Disease can affect how you feel and how you look. The LIDS Study is investigating an oral study drug to treat Thyroid Eye Disease symptoms. The study drug will be compared to placebo in adults with active, moderate-to-severe Thyroid Eye Disease (TED). A study drug (or investigational drug) is one that is being tested in clinical research studies and is not approved for use by the general public. Placebo is a drug that looks like the study drug but has no active ingredients in it.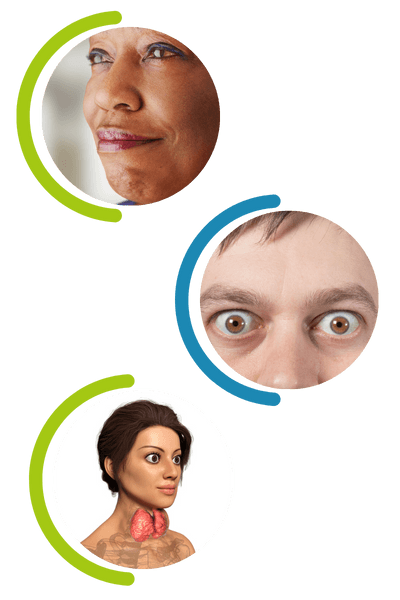 How is Thyroid Eye Disease Diagnosed?
A healthcare provider will be able to diagnose Thyroid Eye Disease by doing an eye exam and possibly other tests, if needed.
If your healthcare provider thinks that you have Thyroid Eye Disease, they'll order blood tests to check if your thyroid hormone levels are too high or too low. Other tests may be requested.
Who does Thyroid Eye Disease Affect?
Thyroid Eye Disease happens more often in Asian and African American women and people assigned female at birth. Nicotine users or smokers have a greater chance of being diagnosed with Thyroid Eye Disease.
The median age for being diagnosed with Thyroid Eye Disease is 45 years old. However, you can be diagnosed at any age.
You may be more likely to develop Thyroid Eye Disease if you:

Have other family members with Thyroid Eye Disease.
Have low levels of the mineral selenium in your blood.
Use nicotine products.
How are the study drugs being tested?
In this study, we are seeking 75 people that meet the criteria and will be assigned to a study drug or placebo group. If you qualify, you will take either the study drug tablets or placebo by mouth twice daily for 24 weeks. You will not be told if you are taking the study drug or placebo.
Participants will be in this study for  a 6-month treatment period followed by an additional 2 years (about 28 months) of follow-up.
During the study, you will visit the study site regularly for several types of tests and assessments. There are a total of 15 study visits and 2 telephone or email visits planned over the 124-week period. These may include:
Vital signs measurements (body temperature, breathing rate, blood pressure, and heart rate)
Physical and eye examinations
Vision assessments
Electrocardiograms (to measure the electrical activity of the heart)
Blood and urine tests
Questionnaires
Not all of these activities will occur at every visit.
If you qualify and choose to participate, you may have access to a new oral investigational treatment option that may help improve your symptoms.
You may be eligible to participate in the Thyroid Eye Disease research study if you:
Are at least 18 years old.
Have been diagnosed with Thyroid Eye Disease associated with Graves' Disease or Hashimoto's Disease.
Have moderate-to-severe active Thyroid Eye Disease (not sight-threatening but has an appreciable impact on daily life), with onset (as determined by patient records) within the past 12 months.
Are experiencing one or more symptoms of Thyroid Eye Disease:

Blurred vision
Dry or Watery Eyes
Pain in or Behind the Eyes
Inflammation/Redness around the Eyes
Change in the Eyes Appearance (e.g.,
bulging eyes or bags under the eyes)
Difficulty moving your eyes
Low tolerance of bright lights
Feeling of grittiness in the eyes
Swelling of the eyelids
Impaired vision
* As a study participant, all study-related care will be provided at no cost to you, including the study drug.
Participants will be paid up to $1,300 for study participation, plus travel reimbursement.
If you are interested in learning more about the LIDS study and if it may be a good fit for you, please submit the short questionnaire. The answers you submit will be used for study purposes only.
Once you submit the form, a member from our team will reach out to you and connect you with a member of the research team if it seems you may qualify for this study.
Please note that answering these questions does not obligate you to participate in the study. If you have any questions, simply email [email protected] or call (415) 326-8831.